Summer, heat…Normally, I always wear a foundation but in the summer my choice goes to tinted moisturizers. Why? Because you hardly feel them on your skin, you can't see them but they give you a better, more even skintone and nicer complexion. One of such tinted moisturizers will be the hero of the day: namely, Urban Decay Urban Defense Tinted Moisturizer in Bodyguard.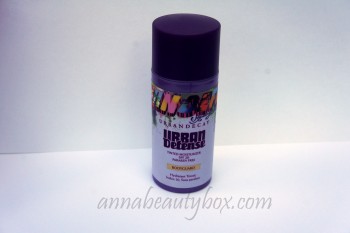 Product Description: It is supposed to battle the free radical damage and protect your skin from harmly influence of the smog of the city. It has SPF 20, is paraben- and fragrancefree. It gives you a more even-toned, bare, dewy finish. The active ingredients are: Octocrylene (8.0 %),Octinoxate (7.5%). It is presented in the four tints: Halo, Bodyguard, Bulletproof and Forcefield.
My opinion:
Packaging: I suppose the brand has changed the packaging of the product recently as my bottle does not look like the one I found on the official website. But I like mine as it is hygienic and easy to use.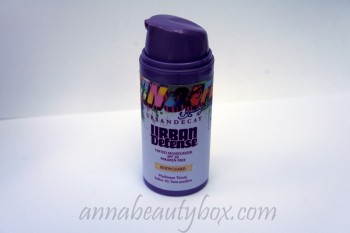 Texture: When you squeeze an amount of product on to your hand, it feels like it was a mousse. It is definitely not the lightest tinted moisturizer I have ever tried (and I am addicted to those products, so I have tried a lot). It is not suitable for hotter temperature than 30C (86F). But then, again, do you want to wear any make-up at all when it's hot like this? I guess, not.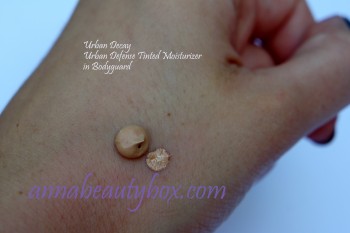 Finish: The product description is true: it gives you a dewy look, your skin is more even-toned, it covers the pores and I think it will be able to cover the fine lines, if you have any. If you prefer the more matte look, this is probably not what you're looking for. It is practically invisible on the skin and gives you a fresher, younger look.
Overall: I have very sensitive problem skin which tends to breakout in some cases. I am very happy to tell you that this product doesn't cause any breakouts at all! It is very light, it moisturizes my skin but doesn't make it oily. Bodyguard is a great color for the summer, when I am a bit sun-kissed. For the winter I still prefer the foundations which are more nourishing as my skin tends to become dry.
Price: $30 for 50 ml (1.69 fl oz) (USA) /30 euro for 50 ml in Europe.
Here is my bare face in the daylight, with and without direct sunlight:
Using Urban Decay Urban Defense in Bodyguard: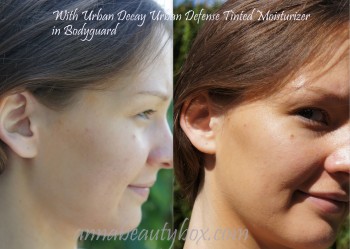 My overall mark for this product will be 8.5 out of 10.
Here is also the ingredient list for the ones who are interested:
Ingredients :
Aqua, Cetearyl Alcohol, Glyceryl Stearate, PEG-40 Castor Oil, Glycerin, Silica, Dimethicone, Dicaprylyl Carbonate, Ginkgo Biloba Leaf Extract, Chamomilla Recutita Flower Extract, Panax Ginseng Root Extract, Litchi Chinensis Pericarp Extract, Tocopheryl Acetate, Tetrahexyldecyl Ascorbate, Montmorillonite, Butylene Glycol, Xanthan Gum, Disodium EDTA, Caprylyl Glycol, Phenoxyethanol.
Thank you for the attention!
Read also:
%RELATEDPOSTS%