Last week I started with a post about Bobbi Brown Corrector, this week I'll continue talking about concealers. This time it's about Bobbi Brown Concealer. As I explained in the previous post Bobbi Brown's system is as following: first you apply a corrector to even out the skin tone and cover the most dark circles. Then you apply the concealer to brighten out the whole under eye area. This way you look like you've slept for 10 hours and have never had a dark circle! Or at least it should look that way. Does it?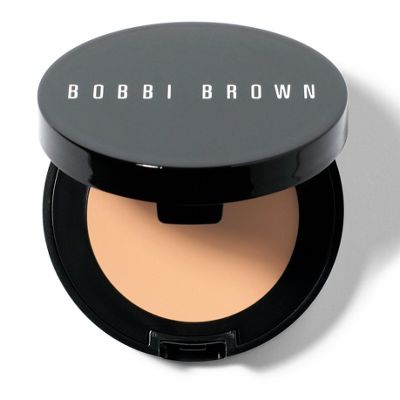 Bobbi Brown Concealer: product description:
Bobbi's secret to looking fresh and well-rested: a yellow-based concealer that instantly camouflages dark circles. Bobbi's long-wearing Creamy Concealer gives you quick, just-right coverage. The new and improved formula is richer and creamier, so it goes on easy, blends smoothly and stays put. Plus it's infused with skin conditioners to protect the delicate under-eye area. Your ideal shade of Creamy Concealer is one shade lighter than your foundation.
The packaging is exactly the same as that of a corrector: a small round box with a tiny round mirror inside. Very classy and stylish. Despite the size, they last quite a long time as you'll only need a tiny bit of a product every time. That's because of its texture: it's really thick and creamy.
My Bobbi Brown Concealer that I actually use is in Sand but I also have one in Warm Natural which I used to use the past summer when I was tanned. I must say that Sand is a good color for me but I think that I'll go for an even lighter shade next time because my skin is really fair, all the tan is gone so I want this brightening effect to be even stronger.
Bobbi Brown Concealer in Sand
Sand is a light yellow-based beige with a touch of pink. There is much less pink though than in Bobbi Brown's corrector in Bisque, here are they together:
Bobbi Brown Concealer in Warm Natural
Warm Natural is a much darker beige. I would say it's a medium-toned yellow-based even a bit orangy beige.
My opinion:
Definitely these concealers have a very high level of coverage. Practically no matter how bad your under eye circles are they'll disappear. And if it's really bad apply concealer on top of the corrector. Your under eye area will look perfect! Bobbi Brown Concealer is really thick and creamy so you'll achieve the best results by applying it with your finger. Apply and smudge it into the skin, you have to work it in very well otherwise it'll start to crease. And it did on me and that's its main disadvantage. I do have to say that it starts creasing really easily but I am in China now and it's really hot and humid in here, nothing lasts for more than 5 minutes: it's so hot it's almost impossible to wear any makeup. In normal conditions this concealer starts creasing too but it happens way later plus you can fight it by applying a special powder over the top. This powder is in a concealer kit it looks like this: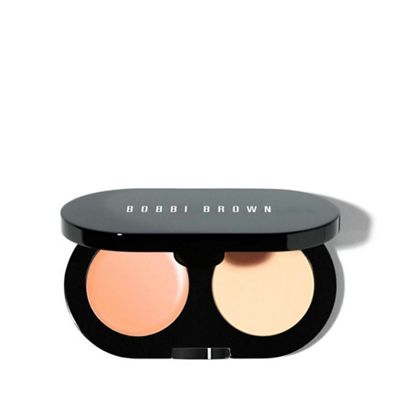 Well this is how the new packaging looks like, I still have my concealer kit with loose powder which is under concealer. I've used up my concealer a long time ago but I still have some powder left and that's what I'm using right now when I need to.
Overall note: A-.
Now let's switch on to the photos:
Here on the right eye (left one on the photo) I applied nothing, I'm wearing Bobbi Brown Corrector in Bisque and Bobbi Brown Concealer in Sand on my left eye (right one on the photo):
Here I applied Bobbi Brown Corrector on my left eye (right one on the photo) to show you the difference between the 2 products:
Here I applied both Bobbi Brown Corrector and Concealer on the both eyes:
As you can see it creases but as I said…it's way too hot in here and I didn't use any powder.