What!? Puffy eyes? Some people spend a lot of time trying to get rid of them. But beauty standards are different everywhere. Like if every Western girl is trying to get bronzed in the summer, Asian women hide under huge umbrella's and use tons of sunscreen to make sure their skin stays white. While most of women I know try to get rid of puffiness under the eyes, this has become a trend in Asia (in Corea in particular).
Puffy eyes trend is also called 'Aegyo Sal'. I was really curious when I first found out about this. Look what I found*: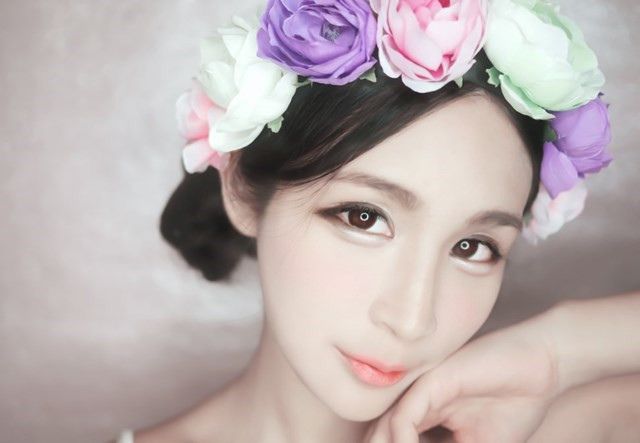 I think this photo looks cute. It is really photoshopped though.
It actually makes your eyes bigger! Wow haha :)
Why?
It is supposed to make your eyes 'smile', make them rounder and make you look younger. The craziest for me is that some women actually decide to use doctor's skills! I think this goes too far so I just decided to play with makeup and see if I like it on myself! I also decided to create a tutorial for you! Even though that me – I don't have to artifially create anything, my eyes are quite puffy on their own and normally I try to get rid of it.
So what you normally do is that you have to find a place under the eyes where it starts to crease. I have a natural shadow there, you can see it clearly. Before:
How to create 'puffy eyes' ('aegyo sal') – step 1:
So the first thing that you do is you apply a very light eyeshadow directly under the eyes until your crease. I used elf pigment in innocent ivory.
Step 2:
Next I just applied a dark eyeshadow (Tease from Urban Decay Naked 2 palette) over my crease.

Step 3:
Now I darkened my outer eye corners with Tease.
Step 4: conceal and blend!
Here I applied some concealer in the inner eye corners and blended out my eyeshadows with Foxy for a more subtle look.
And here is the final result!
Personally I think it's…different! I just wanted to remove my makeup as soon as possible after this haha. What do you think? Do you like this trend? Are you planning to wear this makeup?
* source: Google images ("aegyo sal").