Another interesting product I discovered in my stash is Johnson's Baby Oil. I remember I used to use it all the time as a standard body lotion. I don't know why I stopped doing this, but it is a great budget tip!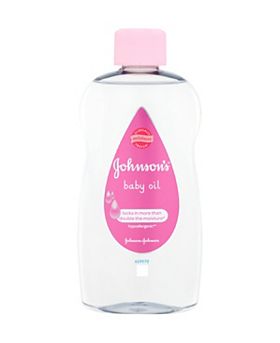 Johnson's Baby Oil: Product Description
Johnson's Baby Oil locks in up to 10 times more moisture, for perfect babysoft skin.

Best for Baby

Ideal for moisturising and massaging your baby's skin. For bath time, just pour some drops into bath to leave skin perfectly babysoft.

Best for you

For babysoft and glowing skin, step out of the shower and apply on wet skin and pad dry. It locks in up to 10 times more moisture than many lotions used on dry skin.

Clinically tested with dermatologists. Colourant & preservative free. Suitable for cradle cap.
There are many kinds of this oil now, I prefer the basic pink one. I love the soft oily texture which is perfect for in the winter. The oil itself is transparent and has a pleasant, 'clean' fragrance.
My opinion:
As I said, I love using this as a body lotion! My skin feels so soft and smooth, besides it's really easy to apply as it glides so smoothly over the skin. It absorbs really quickly and I don't have any greasy feeling after it. This huge bottle will last you forever as you only need a little bit every time.
Overall note: A.
Where you can buy it: