Spring is in the air, summer is coming so I thought it was a great time to post a review for a hydrating mattifying cream! We all know how annoying it is to have to blot your face several times a day and do the touch-ups so let's try and solve this problem on the higher level! Here is the Nuxe Anti Shine Fluid (Fluide Prodigieux Anti-Brilliance)!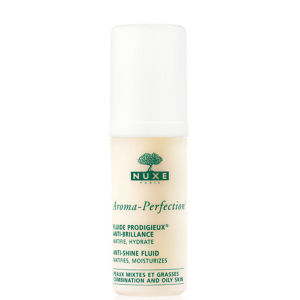 Nuxe Fluide Prodigieux Anti-Brilliance (Anti Shine Fluid)
This purifying daily treatment moisturiser for oily and combination skin is formulated to significantly reduce breakouts, plus, NUXE Aroma Protection Fluide Prodigieux Anti-Brilliance Anti-Shine Fluid minimises shine for an all day matte finish.

Formulated with kaolin, pumpkin oil and jojoba oil to regulate and absorb the overproduction of sebum to leave your skin matte the whole day, NUXE Aroma Perfection Fluide Prodigieux Anti-Brilliance Anti-Shine Fluid is quickly absorbed into the skin without leaving any residue. Its aromatic fragrance of essential oils of rose, lavender and geranium gives you a feeling of pure, clean freshness.

Directions of use:

Apply to the face and neck.
My Opinion:
Even if it's really hot outside and you think you can use all the mattifying products at the same time, your skin needs hydration. Especially when it's hot: your skin loses lots of water so you have to replenish it. Nuxe Anti Shine Fluid combines the good hydration and the mattifying effect. It is just enough for my combination skin but I am not sure the hydration will be enough for dry skin as well as I think oily skin would need a more pronounced matification. Also I recommend using a good hydrating cream as a night cream to keep your skin in balance. I like Nuxe Anti Shine Fluid, it's a great everyday product for the hot period of time. Its texture is pretty thick for a fluid though. I think that's because it contains some oils. First I was quite surprised about it but then I read that some oils actually have a mattifying action. Its fragrance is very light and nice.
Overall Note: B+.
Where to Buy:
Escentual (it only costs 9,33 pounds there now), lookfantastic, Beauty Expert, HQ Hair, feelunique
Finally a picture of the texture: