Riga is a really wonderful place on earth and the longer we live here the more I like it! One of the best features is food! Oh yes you can eat really well here, really a lot and good stuff while not paying a fortune!
I will start off with a bar, it's a place that you should absolutely visit. You can eat something, too but it's mostly to get a drink before going out or before your dinner party elsewhere. But the most important and exciting about it is the magnificent view of Riga!
1. Skyline Bar
Skyline bar is situated on the 26th floor of Radisson Hotel in the center of Riga. The design is nice and of course the view takes your breath away:
The entree fee is 3 euros, the cocktails are about 8 euros, if you want something to eat like pasta and salad you'll have to pay 10 euro.
2. Lido
I think this is one of the most know tourist places in Riga. Everyone knows Lido! It's something a bit like Pret a Manger, but then Latvian style. It's inexpensive, quick, with nice design and it's so good!
There are a couple of Lido in the city the most interesting for tourists are:
Lido in the old town: LIDO Beer Garden (Alus sēta): Riga, Tirgoņu Street 6, LV – 1050
LIDO Vērmanītis: Riga, Elizabetes Street 65, LV – 1050
The biggest Lido: LIDO Recreation Centre: Riga, Krasta str. 76,  LV – 1019
You can eat for about 15 euro here for 2 persons (that includes meat, side dish, salad, fresh juices, coffee). This is more of a place that you would go to eat during the day, for a lunch, to stop by, eat and then go on discovering the city. I wouldn't recommend it for romantic soirees.
3. Lidojosa varde (Flying Frog)
This is an amazing place in the Quiet center. If you like meat and steaks, you have to go there at least once. It's really, really good! Absolutely everything that I've tried there was delicious. The portions are huge, service is great.
I enjoyed my salmon a lot:
And dorado fish was even better:
Believe me, it was delicious!
Also for the cheese lovers, there is a cheese platters in the starters menu and we absolutely loved it! We took the one for the beers, it was served with grilled bread and a cheese sauce and it was really good! Also, it's nice to try out the Latvian kinds of cheese.
Well and of course, the king dish of the flying frog is the 200 and 400 gram meat steaks!
For a dinner for 2 people with a starter, main dish and a glass of wine you will spend around 30-40 euros.
Address: Elizabetes 31a, Riga
4. Street Burgers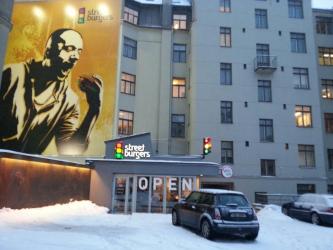 Street Burgers is yet another place where you can eat well and not too expensive. It's a place for burger lovers and they are just so good! They are served with fries fried in the pan (not in the frying pan), a nice old-style classic, it's exactly the way my grandmother always makes fries! The bread is not too soft, it's pretty sweet and firm. I absolutely loved my veggie cheese burger, it was really good! The meat burgers are even better.
Oh and if you like the French macarons I am sure you will appreciate the little burger maracon:
A burger costs about 6 euros. And this place is open 24/7! стоит примерно 6 евро.
Address: Brivibas iela 40-11, Riga
Official website (is under construction, Facebok page
5. Alberta 13
Alberta 13 is definitely the most chique place we've been to in Riga. The design is beautiful, it's in a really quiet nice place in the new center and the menu…mmm. Everything was just so amazingly good! It is the perfect place for a romantic dinner, if you want to enjoy your meal and the people you are with quietly.
A dinner at Alberta 13 will cost you around 30 euros per person (including a starter, main dish, a glass of wine and dessert). It is considered as a chic place in Riga. I definitely recommend it to you!
Address: Alberta street 13, Riga
Official website of Alberta 13
Have you been to Riga? What are your favorite places here?